Apple has added a Health Monitoring feature named "Noise App" to its new watchOS 6 (on Apple Watch Series 4 or later). The Noise App is designed to help watch wearers maintain healthy hearing. Using the inbuilt microphone, it monitors the ambient sound and if the average sound level over three minutes reaches or exceeds a chosen decibel threshold, the watch can notify the wearer.  The app alerts are based on daily limits recommended by the World Health Organisation (WHO).
What if I Get an Alert at Work?
If you have set the noise threshold to 80 decibels or higher and you get an alert at work, this indicates the wearer is exposed to dangerous levels of noise. Contact RV Acoustics today on 07841346611 to arrange a free quote for a compliant noise risk assessment.
Is This App A Risk Assessment?
No. The watch does not meet the International Standards such as IEC 61672-1:2002 (or BS EN61672-1:2003) as a precision noise meter, and therefore cannot be used in a noise risk assessment. However, this app is a great way of alerting employers/employees when a Noise at Work Risk Assessment needs to be carried out. Find out more below.

Quick Guide to The Control of Noise at Work Regulations
The Control of Noise at Work Regulations 2005 sets out two action levels.
Lower Exposure Action Value:    80dBa
Upper Exposure Action Value:    85dBa
It also sets out an Exposure Limit Value (which must not be exceeded).
Exposure Limit Value:    87dBa
Want to get an idea of your noise exposure at work?
The guide below will help you setup the Noise App on the Apple Watch to receive alerts.
How to turn on Noise notifications
On your iPhone, open the Apple Watch app.
Tap the My Watch tab, then tap Noise.
Tap Noise Threshold, then choose a decibel level.
You can also adjust notifications directly from your Apple Watch. Go to Settings > Noise.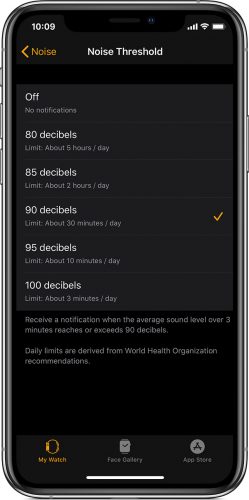 How to Set the Noise Threshold
In the Noise App settings, the watch wearer can set the "Noise Threshold" in 5dB increments.
When you are at work, set the noise threshold to 80dB and if you get an alert, that will be a strong indication that a Noise at Work Risk Assessment for your role is required.
#NoiseAtWork #Acoustics #RiskAssessment #AppleWatch #NoiseApp #IOS #WatchOS6 #Noise
Remember, this feature is only an indication of ambient noise levels and is not a replacement for a precision sound level meter and a proper noise risk assessment.